AI Experience Center with Fab Lab and Service Center
De toegankelijkheid van AI-technologieën verhogen is één van de voornaamste uitdagingen om te komen tot maximale valorisatie in Vlaanderen. Hiertoe wordt ingezet op de verdere uitbouw van een AI Experience Center in Brussel waar alle geïnteresseerden in AI - grote en kleine bedrijven, startups, beleidsmakers, studenten en het brede publiek - terechtkunnen, en dat een aantal unieke troeven aan elkaar koppelt en fors uitbreidt. Het zal infrastructuur en diensten van wereldklasse aanbieden om toegepast en fundamenteel toponderzoek te kunnen doen, om meer AI-talent op te leiden en om een ecosysteem te creëren waar ook bedrijven ondersteund worden. In het AI Experience Center, dat openstaat voor alle instellingen en bedrijven, zal ook een breed aanbod van AI-componenten voor co-creatie en snelle prototyping beschikbaar zijn. Het unieke AI Fablab van de VUB, waar bedrijven en organisaties hun eigen data kunnen meebrengen en met AI experimenteren, zal hier de kern van uitmaken en oplinken naar de andere universitaire centra. Ook een proeftuin voor AI-projecten en de denktank en labo voor verantwoordelijke en humane AI worden hieraan gekoppeld, en zullen gezamenlijk zorgen voor grootschalige implementatie en demonstratie van AI.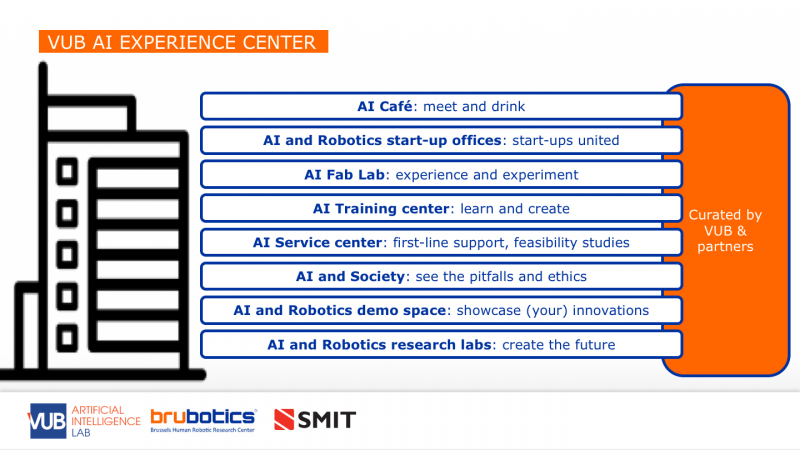 The idea is to create a world-renowned hub for AI, showcasing and educating the unique opportunities of AI and robotics. It will consist of three components:
The Exposition Space includes a museum, showing exhibitions to schools and the general public about AI and it implications on society, policy and ethics; a café serving as a meeting place or a place to host events; and a demo space where research groups and AI companies can show their latest innovations.
The Learning Center includes a Fab Lab, where students can play with AI infrastructure (hardware and software) and where companies can bring their data to experiment with.
The Service Center, where students and companies can attend training sessions, seminars and tutorilas, and which serves as a place to interact and discuss freely.
This center aims at providing the first step to inspire on the possibilities of AI, to offer world-class infrastructure, support and room to experiment, allowing students, researchers, companies and the general public to meet and connect. In order to realise this ambitious idea we are looking for partners that share our enthousiasm and can donate funds, infrastructure or their time to make it work. In return, they can attend seminars and training sessions, increase their visibility (with a demo, for example) and partner with research groups or other companies. 

For more information, feel free to contact Leander Schietgat or Ann Nowé.
AI Fab Lab
The AI Fab Lab is a high-tech playground where researchers, students and SME employees/tech entrepreneurs can collaborate to develop and produce local technological solutions to local problems. Typically, Fab Labs are workshops that promote "open source hardware" access.
The AI Fab Lab has as its purpose to build prototypes of AI systems, always fostering both data-driven machine learning as well as semantic technologies that support knowledge-based AI. Experienced AI developers will be able to assist individuals by giving hands-on tutorials on popular machine learning libraries such as TensorFlow or PyTorch, NLP packages to build custom-tailored chatbots, or introduce them into semantic web technologies such as DBPedia or Babelnet for linking language with knowledge representation.
Apart from technological support and a creative and stimulating infrastructure that stimulates both learning and playing, the AI Fab Lab will ask companies to provide physical prototyping gadgets, sensors and robots so that the "fabricated'' AI systems can be in real-world settings. Naturally, the necessary computing infrastructure (high-performance clusters with GPUs) will be set up to train and store the models.
The AI Fab Lab in Brussels aspires to be a model for many other Flemish cities, to also set up their own AI Fab Labs to stimulate and support local AI development.
More information to follow.