Kris Heylen
Kris Heylen is a former member of the lab who is no longer affiliated with the VUB AI Lab.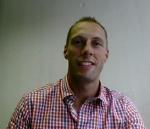 Postal address:
Vrije Universiteit Brussel
Artificial Intelligence Lab
Pleinlaan 2
Building G, 10th floor
1050 Brussels
Belgium
Kris Heylen obtained an MA in Linguistics (2000), an MA in Artificial Intelligence (2001) and a PhD in Linguistics (2005) from the University of Leuven. His research focuses on the statistical modelling of lexical variation and polysemy in corpus data using Distributional Semantic Models and multivariate statistical analysis. At the AI lab, he will be contributing to the European ODYCCEUS project.
Research projects