Katrien Beuls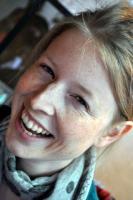 Postal address:
Vrije Universiteit Brussel
Artificial Intelligence Lab (DINF)
Pleinlaan 2
B-1050 Brussels
Katrien Beuls (°1986) received her MSc in Speech and Language Processing from the University of Edinburgh in 2009 and her MA in Linguistics from the University of Leuven in 2008. She defended her PhD in 2013 at the VUB on a new framework for Computer-Assisted Language Learning that is rooted in Computational Construction Grammar and uses fundamental techniques of symbolic AI such as student modelling and the representation of tutoring strategies to provide personalised feedback to the student. At present she is assistant professor in Computer Science lecturing in Natural Language Processing technologies and symbolic programming. She is Principal Investigator on the ESSENCE Evolutionary Semantics Marie Curie initial training network and prime coordinator of the ATLANTIS (Era-Net) project. Her main research interests lie in the applications of Computational Construction Grammar in diverse settings including language tutoring, formal grammars, music composition and evolutionary linguistics.