Contact
Postal address:
AI Lab
Vrije Universiteit Brussel
Pleinlaan 2
B-1050 Brussels
Belgium
Reaching the lab
Be aware that there are two "free universities" in Brussels: one French-speaking and one Dutch-speaking. You need get to the Etterbeek campus of the Dutch speaking "Vrije Universiteit Brussel".
Arriving at the airport
There is a train connection from the airport to the main railway stations in Brussels. Trains leave every 20 minutes. It takes about 20 minutes to get to Central Station.
From the railway-station
The three main railway stations (Nord, Central, Midi) are inter-connected. Most trains halt in all three stations. The best connection to the campus is from Central station via the subway: take Metro line 5, in the direction of Hermann-Debroux. Do not take a metro to Stockel (which arrives at the same platform). You can take a look at the map of the Brussels metro and tramway system.
Get off at Petillon station. Take the exit on your left hand side, as you get off the metro (towards Avenue des Volontaires). At the exit of the metro station, follow this street towards the right. The VUB campus is at the end of the street you are following (within 10' walking distance), across the Triomflaan.
Arriving on the campus, you should head for the tallest building of the campus (10 stories) which is at your left hand side as you arrive from the metrostation (Petillon).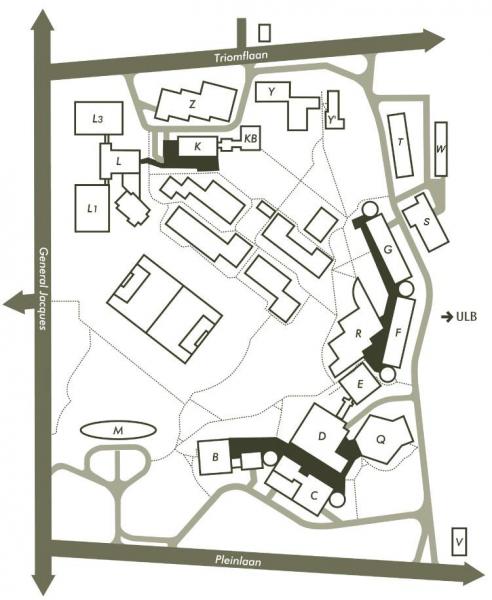 We are in building G on the tenth floor. Just follow the corridor (make sure you go to part G as you exit the elevator),rooms 10G725 (evolutionary linguistics group) and 10G711 (CoMo group).
Via the road
The VUB campus is situated in the south-eastern part of the city, approximately 7 km from the centre. Appropriate campus entrances are number 6 on Pleinlaan and number 13 on Triomflaan, reachable via Generaal Jacqueslaan.
More information
Alternatively, you might want to have a look at the directions provided by the university to reach the Etterbeek campus.